Weather in Athens in September: Is it Time to Pack Your Bags?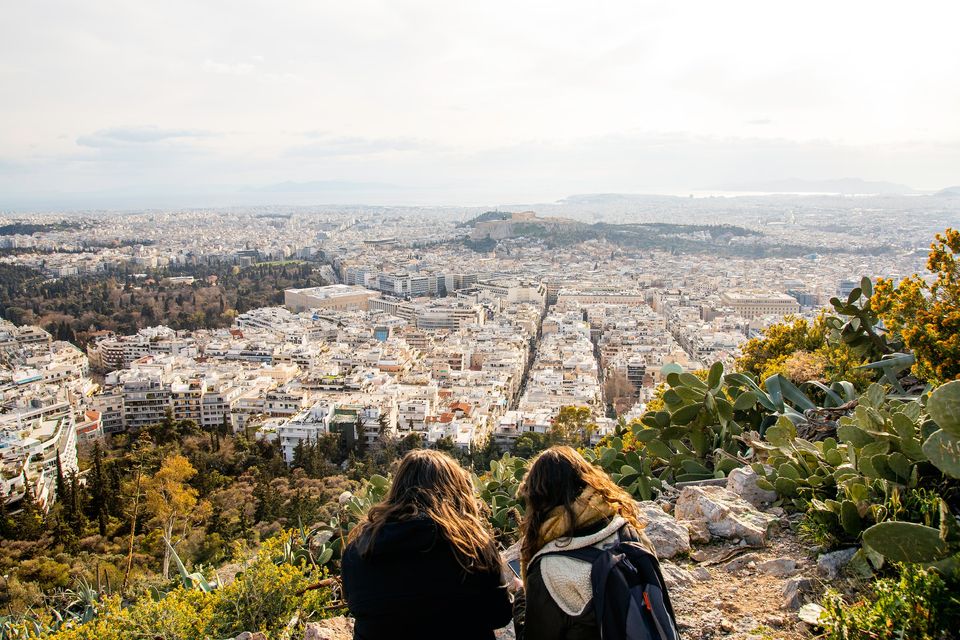 Hello, dear readers! Ever wondered about the weather in Athens in September? Whether you're dreaming of sipping ouzo on a rooftop or just curious about what the skies have in store, you've landed on the right page. 😉
And hey, before we dive in, have you downloaded the WeatherGO app yet? It's your nifty pocket guide to weather forecasts in both Celsius and Fahrenheit, ensuring you're always a step ahead of Mother Nature.
September: that magical time when summer kisses fall, and we're all wondering whether we can still rock those shorts or if it's time to dig out the autumn sweaters. But if you're thinking about travel to Greece in September, you might be in for a pleasant surprise!
What's the Temperature Like?
On average, Athens gifts us with a balmy 75°F (24°C) in September. It's warm enough to enjoy the beach but cool enough not to melt your gelato in two seconds flat.
(For a deep dive on Celsius and Fahrenhiet, the who's, the why's, the hows, checkout our °F & °C guide)
Rain, Rain, Go Away?
Rain in Athens during September is more of a gentle whisper than a loud conversation. On average, the city receives about 0.33mm (0.01 inches). So, unless you fancy dancing in the rain, you can safely leave those rain boots at home.
Is It Windy?
Feel the breeze without being blown away! The average wind speed in Athens during September is a gentle 10 km/h (6.2 mph). It's like nature's own air conditioner.
And What About Humidity?
Nobody likes that sticky feeling when exploring a new city. Fortunately, Athens' average humidity in September is a comfortable 54%. It's like the city's giving you a gentle, non-sweaty hug.
Dive into Athenian Adventures
Sightseeing Extravaganza
The city's historical landmarks are its heartbeat. The Acropolis stands as a testament to human ingenuity, while sites like the Ancient Agora and the Temple of Hephaestus are windows into a glorious past.
Football Fever in Athens
Football in Athens isn't just a game; it's an emotion. Teams like Olympiakos play at the Karaiskakis Stadium in Piraeus. Panathinaikos light up the Apostolos Nikolaidis Stadium in the Ambelokipi neighborhood. And AEK Athens? They're at the Olympic Stadium in Marousi. Each match is a blend of sport, passion, and culture. Just remember to wear the right colors in the right stadium!
Beach Getaways
While the city of Athens dazzles with its historical grandeur and urban charm, its proximity to the Aegean Sea means you're never too far from a tranquil beach retreat. The Athenian coastline, often referred to as the Athenian Riviera, beckons with a mix of sandy shores, crystalline waters, and seaside eateries.
Vouliagmeni: Just a short drive from the city center, Vouliagmeni is a favorite among locals and tourists alike. Its pristine beach is perfect for sunbathing and swimming. After a refreshing dip, you can lounge at one of the upscale beach clubs or dine in seaside restaurants, savoring fresh seafood with a view of the horizon.
Glyfada: Known for its vibrant nightlife and stylish beach bars, Glyfada is where the city meets the sea. It's not just about sun and surf here; the area boasts chic boutiques, gourmet eateries, and cocktail bars that come alive as the sun sets.
Anavyssos: For those seeking a quieter experience, Anavyssos offers a serene setting. Its sandy shores are ideal for relaxation, and the deeper waters attract experienced swimmers and snorkelers. The local tavernas, with their traditional Greek dishes, add to the charm.
Sounio: While a bit further away, a trip to Sounio is worth the drive. Not only does it offer beautiful beaches, but it's also home to the ancient Temple of Poseidon. Imagine swimming in the sea and lounging on the beach with a view of an ancient temple perched high on a cliff. As the sun sets, the temple is bathed in a golden hue, making it a mesmerizing sight.
Athens' Thriving Art Scene
Athens' art scene is a vibrant blend of the past and the present. While its history is rich with classical art, the contemporary scene is buzzing with innovation. Explore areas like Metaxourgeio and Psiri to discover avant-garde galleries, underground art spaces, and street art that captures the city's spirit. Every corner, wall, and alley in these districts speaks of artistic rebellion, social commentary, and pure creativity. Artists from around the world converge in Athens, making it a melting pot of styles, mediums, and messages.
A Culinary Odyssey in Athens
Greek cuisine is more than just food; it's a journey through history, geography, and culture, all plated up for your gustatory delight. And Athens, as the heart of Greece, showcases it all.
Mezze Magic: Start with 'mezze,' an assortment of small dishes that can range from dips like the garlic-infused skordalia and the creamy taramasalata (fish roe dip) to delicate dolmades (stuffed grape leaves) and crispy spanakopita (spinach pie). Each bite introduces you to a new flavor, a new texture, and a new story.
Succulent Souvlaki: Then there's the iconic souvlaki – skewered and grilled meat, often wrapped in a soft pita with fresh tomatoes, onions, and a dollop of tzatziki. It's street food at its finest, capturing the very essence of Athenian life.
Moussaka Marvels: Dive into a plate of moussaka, a rich, layered dish of eggplant, minced meat, and creamy béchamel sauce. It's comfort food that warms the soul, reminiscent of sun-soaked Greek afternoons.
Seafood Splendors: Being close to the sea, Athens offers a bounty of fresh seafood. From grilled octopus to fried calamari and rich fish stews, the city's tavernas serve up the freshest catches, seasoned with herbs and drenched in olive oil.
Sweet Sensations: And no Athenian meal is complete without dessert. Baklava, with its layers of crispy phyllo, sweetened nuts, and honey, is a favorite. But don't stop there. Try the loukoumades, deep-fried dough balls drizzled with honey and cinnamon, or the creamy galaktoboureko, a custard pie that's a symphony of sweetness.
Sip and Savor: To wash it all down, there's nothing like a glass of ouzo, the anise-flavored spirit that's quintessentially Greek. If you're more of a wine enthusiast, Athens offers a selection of local wines that perfectly complement its dishes. From robust reds to crisp whites, there's a vintage for every palate.
In Athens, every meal is a celebration. The city, with its rich culinary heritage, invites you to sit down, take a bite, and savor a millennia-old tradition that's as alive today as it ever was.
Nooks, Crannies, and Athenian Alleys
The beauty of Athens lies in its details. Venture beyond the tourist trails, and you'll find quaint cafes, local markets, and hidden gardens. It's in these nooks and crannies that Athens reveals its true self.
Museums Galore
For art and history buffs, the National Archaeological Museum and the Acropolis Museum are must-visits. They house some of the world's most significant artifacts, taking you on a mesmerizing journey through time.
Wrapping Up With WeatherGO
In conclusion, if someone ever quips, "Is the weather good in Greece in September?", send them this post, and let Athens do the talking. And hey, while you're preparing for your Grecian getaway, don't forget to check out our friends at HostelGO's guide to the best Athens's hostels. It'll set you up with the best places to lay your head after a day of Athenian adventures.
Also, give the WeatherGO app a whirl. Whether you're a Celsius crusader or a Fahrenheit fan, we've got the forecasts to make your travels smooth. Because in travel, as in life, it's always best to be prepared.
So, are you ready for your September Athenian adventure? With the right info (and the right app!), Athens is just waiting to be explored. Download WeatherGO and let the journey begin!
---